About Margo Murray & John Murray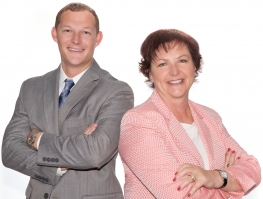 Serving South Orange County since 1988. Our team and I strive to offer a level of extraordinary service to each of our clients—to do things the right way. My business "plan" is for the long term…not the quick deal. I have never needed any single transaction enough to compromise my ideals or integrity and I never will.
To be successful in this business, one must be competitive in nature, have marketing expertise, staying power, creativity and a great deal of experience and knowledge of the market. One must also have the ability to adapt to new and exciting technologies. One must be a people person and have a passion for the business. One must have a team in order to provide extraordinary service. Finally, one must be willing to earn a client's business by hard work and going the extra mile.
Reputation of Service
The Representation You Deserve
Whether you are looking to buy or sell a home, you've come to the right place. Here on our website you'll find information and resources designed to help you buy or sell a home more effectively.
Buying or selling a home is one of the most important and exciting time of one's life, and we believe you deserve the best representation available. During both the selling and buying process, we'll ensure you'll enjoy the experience while being fully involved and professionally serviced along the way.
Call us today! We can help you get through the home buying and selling process easier than you ever imagined.
Making Dreams a Reality
Make a Difference in Your Real Estate Experience with The Right Real Estate Agent. Contact Us Now!
Exceeding Your Expectations
Devotion to Market Our Listings
89% of buyers use the interent to search from homes in today's market. Internet marketing is vital in getting your property exposure and being able to reach out to a larger audience of potential buyers. We have an online marketing plan for all of our listings, along with the traditional marketing. Our online marketing plan for our listings include Single Property Websites, Virtual Tours, Listing Flyers, Craigslist Ads, ActiveRain Blogs, Showing Feedback System, Listing Syndication, Social Networking. Leads generated from the listing's online marketing are captured into a Lead Management System for immediate response to potential buyers.

Testimonials
"This is the testimonial. Testimonial would display here."
-Peter and Jane
"This is the testimonial. Testimonial would display here."
-Chris and Mary